Check In Curious, Check Out Inspired
The Study at University City reflects the pioneering spirit that exists in the heart of West Philadelphia. As our guest, you'll have direct access to all the experiences and opportunities that the city has to offer, making for a hotel stay unlike any other.
Celebrate the Collegiate Experience
Both UPenn and Drexel play an important role in The Study at University City—and it goes beyond fantastic campus views. Families of students love staying at The Study at University City because they get to be immersed in the energy on-campus. Commencement, Homecoming, and major athletic events are some of the liveliest times at our hotel.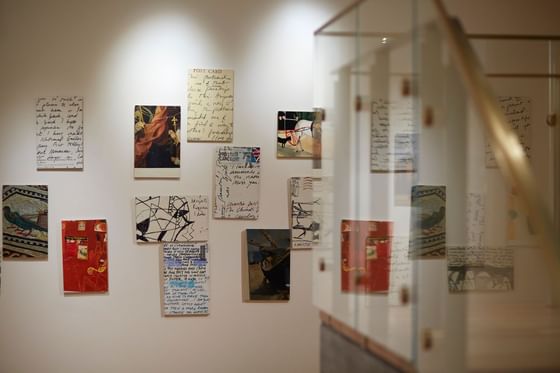 Enrich Your Stay with Arts & Letters
We foster a deep connection to the schools through unique features like our displays of university museum artifacts, books by university authors, and rotating art exhibits from Drexel's Westphal College of Media Arts & Design.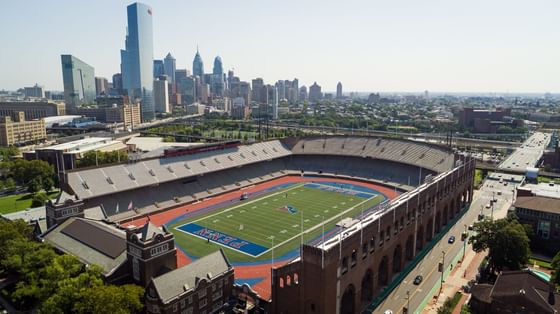 Discover Your School Spirit
Study guests often enjoy campus tours, as well as complimentary tickets to university museums and athletic events. We highly recommend attending a show at Penn Live Arts.
Integral to Industry
The Study is proud to be a part of the rapid development of University City. With key institutions in technology, biotech, and medicine just steps away from our doors, it's no wonder that many of our guests are leaders in these fields.
Whether we're hosting a conference for pharmaceutical representatives or welcoming executives for week-long stays, The Study has become the first choice for professionals in University City.
Explore Nearby Developments
The Study is steps from the University City Science Center, Children's Hospital of Philadelphia, and Cira Centre.
Hospitality for the Whole Community
Since opening our doors in 2017, The Study at University City has become a beacon for local events and gatherings, attracting a diverse array of academics, artists, writers, athletes, medical professionals, and entrepreneurs. We love representing University City while hosting people from all over the world who are visiting destinations like the Arlen Specter US Squash Center and Rodin Museum.
Collaborations with Local Charities
We make it a priority to be an active contributor to the greater University City community by working with the Ronald McDonald House and supporting youth literacy through partnerships with organizations like Achieve Now.